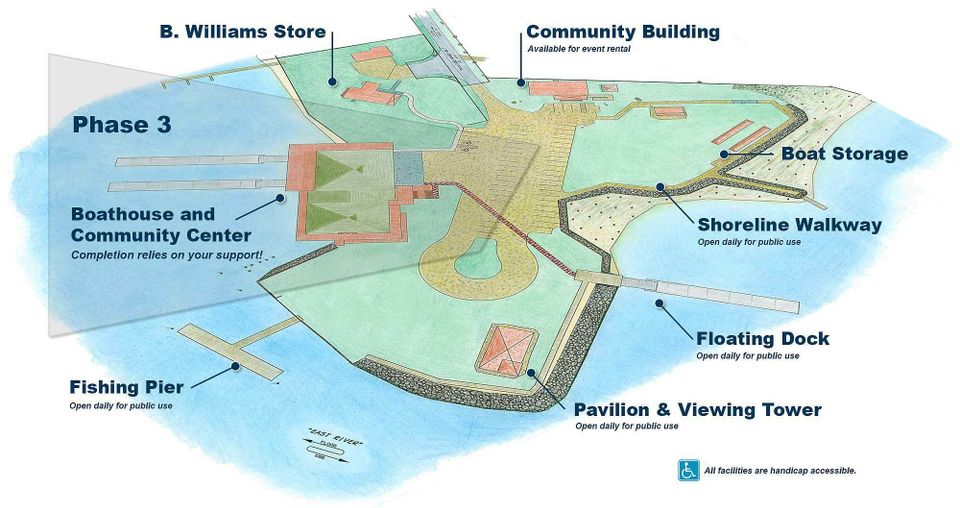 Help Us Get to the Finish Line! 
Phases I & II are Complete – $8 Million Already Invested 

The Mathews Land Conservancy (MLC), through foresight and donations from thousands of individuals, rescued the Williams Wharf site from an industrial operation that would have altered the East River landscape forever.

During Phases I & II, the property was acquired, permits were secured, public spaces were designed and built, and a conservation easement was placed on Williams Wharf to ensure public access in perpetuity.

Phase III:

The Completion of the Owens Maritime Education and Rowing Center. This Relies on Your Support!





Construction of the Center has begun. In preparation for Phase III, the foundation has been laid and the framework and roof are completed. The third and final phase of the Williams Wharf project is the completion of the Owens Center and its site work. This phase will complete the Maritime Education classrooms, meeting and presentation spaces and decks and the Rowing Facility components. The energy systems will be installed (solar, wind and geothermal), and the final site work for wetlands and docks will be finished.
With your help, we can positively impact people and families with stimulating hands-on maritime education, aquaculture programs, community events, and a multitude of on-water or outdoor programs that are complementary to the Chesapeake Bay.